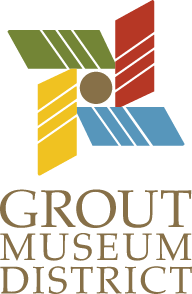 Sullivan Brothers Iowa Veterans Museum
Grout Museum of History and Science
503 South Street
319-234-6357
Mon, March 16 – Fri, March 20
9am – 5pm
$1 per person
Sullivan Brothers Iowa Veterans Museum
($1 entry will also get you into the Grout Museum of History and Science)
The Sullivan Brothers Iowa Veterans Museum honors the service and sacrifice of all Iowa veterans from the Civil War to present. Step into their stories through traditional exhibits, interactive activities and an electronic Wall of Honor. The Museum consists of over 35 interactive exhibits. Interviews collected via the Voices of Iowa Oral History Project total over 1,500.
Grout Museum of History and Science
Pretend you're a pioneer. Reach for the stars. Explore your ancestry. Your curiosity will take you far.
The Grout Museum of History and Science features permanent and continually changing exhibitions of area history, regional flora and fauna, and the only public planetarium in Northeast Iowa.